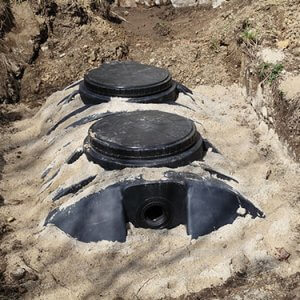 If you have stormwater or wastewater outputs that are below the grade of your sewage mains, then you'll need to install a lift station to pump water up and away from your building. At Above All Plumbing, we provide lift station installation services for residential, commercial, and development properties. We also provide excavations, so that you can complete your project with one call. Feel free to reach out to us to get started, or you can continue reading to learn more about our lift station excavations, installations, and other services.
Lift Station Excavation
Lift stations are rather bulky installations. As such, we'll have to excavate quite a bit of earth to install your lift station. Fortunately, we make quick work of even the most demanding sites with our heavy machinery. We can dig up and haul away earth to provide enough space for your upcoming lift station.
Lift Station Installation
Whether you need a prefabricated lift station, or a custom lift station for your site, we can provide. We install lift stations for storm and wastewater, enabling you to force water up and away from your property to the nearest sewage main. We can also install sewage laterals to reach your sewage main.
Additional Services
If you have an issue with your lift station, sewage laterals, or your sewage main, we'd be happy to take a look. We provide plumbing repairs and inspections, and we can excavate and repair any burst pipes that you have on your property. In addition, we can clean your drains, inspect your pump, and ensure that everything is flowing. We also have a specialized sewer camera to inspect buried pipes before providing maintenance or repair services.
Call Yuma's Buried Plumbing Experts
For a reliable lift station, you can trust the professional plumbers and excavation experts here at Above All Plumbing. We provide lift station services for folks throughout Yuma and the surrounding area, and we back all of our work with a 100% satisfaction guarantee. We work on all sorts of properties, including residential property, commercial property, and developments. If you're ready to get your plumbing project started, simply give us a call!